Spice looking for targeting Indian Smartphone market.Now spice Collaboration with the Coolpad,Which is Chinese giant Smartphone manufacturer. The Spice Coolpad Mi-515 is the second Smartphone which is comes out with collaboration with the Coolpad.Who are not aware with the Coolpad brand.So,The coolpad is the Third Largest Smartphone Manufacturer in China.And it's leading Top 10 in the world.So the Company have a largest market in china for 3G/4G mobile and it's now collaboration with the spice in India and launched Spice Coolpad Mi-515.
Now,The phone looks pretty much better then older Spice Smartphone.So Performance,Design,Software,Hardware.Connectivity & Battery Life.These all things we are discuss in the Review Section of Spice Coolpad Mi-515.
Spice Coolpad Mi-515 Review
Design
The Spice Coolpad Mi-515 looks smarter and the 9.9 mm slim looks good for the hand and it's not feel heavy,Because it's backside cover has plastic body so it's around 160g weight so it's look Pretty much good in hand.
<
Display
The display of Spice Coolpad Mi-515 is 5 inch. with the resolution 540×960 pixels that can be considered decent at this price range.The any format video plays in these resolution it's Not HD display but it's better to deal with this range of Smartphone.
Software/ Interface
The Spice Coolpad Mi-515 runs Android 4.1.2 (Jelly Bean).There are some Apps which is include by company. and it's cover with the antivirus and performance apps by spice group.The home-screen panel consists of five customizable screens. The notification tray includes toggles for settings such as Wi-Fi, Brightness, Rotation, Bluetooth, GPS, Data, Screen timeout and sound profiles.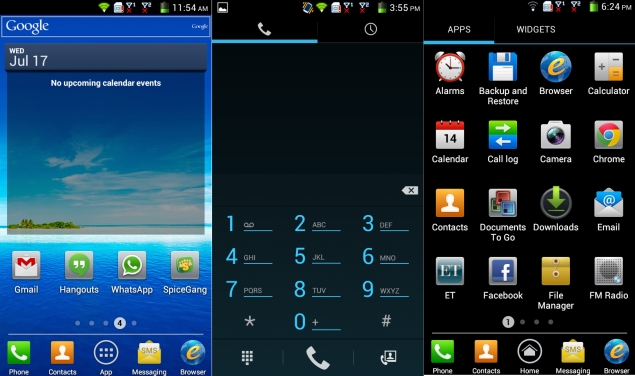 Camera
The camera in the Spice Coolpad Mi-515 some let down.But in some light the 5.0-megapixel camera takes decent quality shots during well conditions.But some dark light it's image quality does not make better at the options.The front camera is about 0.3-megapixel in Spice Coolpad Mi-515 which is consider to be ok with video chat.
Performance
The Spice Coolpad Mi-515 is powered by a 1.2GHz quad-core processor, and has 1GB RAM. There is 4GB of internal storage, which is expandable up to 32GB with the help of microSD card.It will run all the full HD games include TampleRun and Asphalt 7.The phone comes with Bluetooth, Wi-Fi, 3G, GPRS, EDGE, and Micro-USB connectivity options. Other major features include GPS, a-GPS. The phone also comes with FM Radio and offers good reception.
It is powered by a 2000mAh battery that easily lasts for more than a day with normal usage, including calling, browsing, playing games and using apps. The touch screen QWERTY keyboard of the device was a bit sloppy and it took some time to get used to it.
Conclusion
The Spice Coolpad Mi-515 is better options.If you want to by 5-inch smart phone under Rs.10000.Only the camera performance has the average and battery life 2000mAh Which is consider good for 5-inch Smartphone.This is better deal Spice Coolpad Mi-515 available under 10k in flipcart.
Spice Coolpad Mi-515 Speciation
5 inches IPS LCD display with resolution of 540 x 960 pixels
Android Jelly Bean v 4.1 OS
1.2 GHz quad core processor
5 MP of main camera and 0.3 MP of front camera
1 GB of RAM and 4 GB of internal memory
Wi-Fi, Bluetooth, GPS with A-GPS and MicroUSB connectivity features
2000 mAh Li-Ion polymer battery
Available at 9990 in Flipcart.